Students are an integral part of the work Health in Slums does in Bangalore. Students from Maastricht University and Zuyd University of Applied Sciences have contributed, and continue to contribute, to the work of Health in Slums in numerous ways, working on our core projects, as well as on projects implemented by our partners, in order to contribute to the efforts of the Health in Slums network in Bangalore overall.
WORK ON OUR CORE PROJECTS
Overall, five Masters in Global Health students have contributed to the work of Health in Slums thus far, conducting research on a range of topics relating to our core projects – Project Exhale and THULSI – as well as other relevant topics. Two of these students – Cristian and Preeti – have stayed on to build on their initial research as PhD students working on Project Exhale.
In addition, students from other programmes at Maastricht University – including International Medicine – have worked, and continue to work, with our PhD students on Project Exhale.
WORK WITH PARTNER ORGANIZATIONS
Since 2015, over 35 students have participated in Health in Slums Exchanges – a parallel and contributing programme to Health in Slums - at Zuyd University of Applied Sciences. Many more students are expected to participate in this programme in future.
These students have come from range of different study programmes and have contributed directly and indirectly to the health and well-being of slum communities (and other vulnerable communities) by working with our network of partners in Bangalore.
Study programmes represented thus far include: Hotel Management, Built Environment, Social Work, Design, Communications and Multimedia Design, Nursing, Midwifery, Physical Therapy, Occupational Therapy, Dance Therapy, OTC (Translation and Interpretation), Facility Management, HJO (Higher Legal Education), People and Business and European Studies.
Imagine yourself, you live in India inside a slum. You are living in a house that has been built by the materials you were able to find. There is no such thing as ventilation and daylight inside. The food is prepared inside, which causes a lot of smoke and an unhealthy indoor environment. You don't have access to drinking water, a decent toilet, electricity, healthcare and so on. Every day you need to find some work to make sure you can afford food for your family. Your future is insecure.
My name is Stan van de Schoor, I am a 4th year Built Environment student at Zuyd University Heerlen. I chose to go abroad for my pre professional internship. Via Health in Slums Exchanges (a parallel and contributing programme to Health in Slums) I got in touch with one of its partner organizations - Selco Foundation, a NGO in the city of Bangalore. Here I lived from February until July.
Selco India focusses on providing people in slums with electricity, mostly via solar panels. Selco Foundation is a part of Selco India. Selco Foundation focusses on improving life in the slums through new technologies, products and innovations. Within Selco Foundation I worked together with an architect, solving Built Environment-related issues.
Throughout the entire internship I was busy designing houses for the people in the slums. We were trying to design some kind of house that would be affordable for everyone. The house needs to have ventilation and daylight. It also needs to be collapsible and dismountable, in case of ejection of the slum community.
During my time in India I made several prototypes of our HUM (Housing for Urban Migrants). We built these HUMs inside the slums so that a family could live in it. We gained a lot of knowledge with each prototype we made. Just before I left India I finished my last prototype, which was completely my design.
I am glad that I chose to go abroad. For me, this internship has been the best experience in my life and I have learned so many new things on social, cultural and professional level.
I am Samana Rikers (25), a Zuyd University of Applied Sciences final year nursing student from Maastricht and I always had the ambition to work abroad in the field of health care, particularly in low-resource settings.
However, when I heard about the possibility of an internship in India initially, I was also a little scared. I knew I had to go there, but I was afraid that I would not be able to deal with the big contrasts – including between the rich and the poor - in the country. Nevertheless, it turned out to be the best experience of my life.
My internship was 12 weeks in total - 6 weeks within different wards at Bangalore Baptist Hospital (BBH) – a partner within the Health in Slums Alliance - and 6 weeks in its Community Health Department (CHD). In the wards, I was able to observe and join many procedures that I have never had an opportunity to see before in the Netherlands. However, it was through the CHD that I really learned the most, particularly about India and its culture. The mission of the CHD is to make a difference in the lives of the poor living in the rural and urban areas of Bangalore. In the rural areas, situated up to 1.5 hours drive away, I got the opportunity to accompany the team in a "clinic on wheels", which visited several different villages around Bangalore. This is how the CHD reaches about 900 villages to conduct health screening and provide medication, as needed. In addition, there are planned home visits for palliative care patients and several other programmes such as the alcohol de-addiction and rehabilitation programmes. Further, in one of the slum districts, there is an Urban Health Centre, which provides primary care to the poor and marginalized groups.
For my assignment, I worked in the slums of Bangalore, where I sought to raise awareness about the dengue virus, which is transmitted by mosquitos, because many people in slums don't know it can be a fatal, but preventable disease. Together with a doctor, health educator and a volunteer, I organized several classes and presentations on the streets, in small houses or in schools in the slums to raise awareness. If you actually want to make a difference, it is essential to involve, and work together with, the local people in finding solutions for problems such as dengue.
Before I first visited the slums, I expected the situation there to be horrible and hopeless based on what I had heard. When I visited the slums, I did see very challenging circumstances. However, when I walked in there, I actually felt happy. To see all these colorful houses, the sweet faces of women who take care of each other, their many children and the grandmothers within the community, and their efforts to make the best of the situation. It seems to be such a contradiction - to see all these women and children smiling but behind almost every smile a horrible story is hidden.
In the Netherlands, most people have insurance and a complete household with furniture, but are still unsatisfied with what they have and keep collecting more. Having experienced what I did during my placement, I felt a little guilty of this, but also motivated to do something about it.
When I arrived back from the Netherlands I was sure: I will work in the field of health care in low-resource settings once I have graduated. Now I know better what I want, where I stand and who I am. I'm very grateful to BBH and inspired by all of its great nurses and doctors who work so hard to make a difference in the lives of slum communities in Bangalore.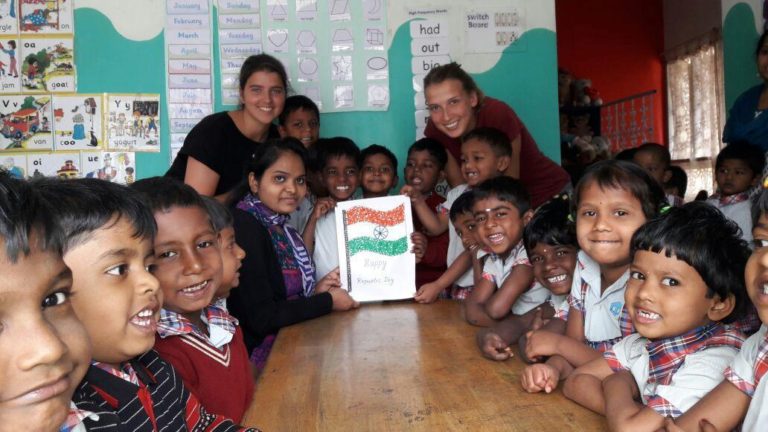 Esther and Romy (OTC) worked with one of the GAP Changemakers – Building Blocks – at a school that helps to provide support to children who have not had formal schooling but hope to enter the formal school system by equipping them with the skills needed for this transition.
Tim and Ralf (Occupational Therapy),worked with MAYA (Movement for Alternatives and Youth Awareness) to incorporate Occupational Therapy considerations and practices into the work of their Health Navigators in a way that fits the local context.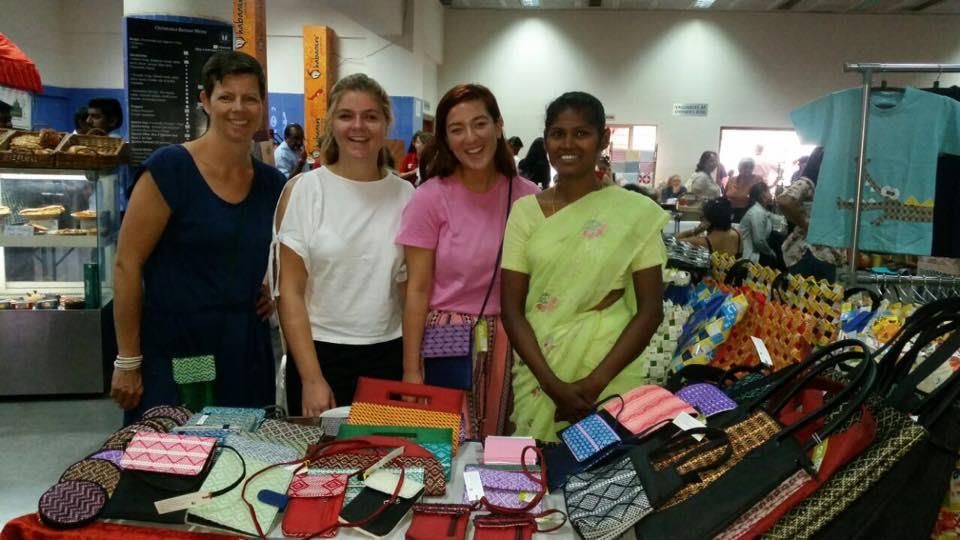 Naomi and Frederique (OTC and Hotel Management) worked with ANULife - a project where women from slum communities recycle discarded juice cartons, cement bags and other materials to create products, such as bags – to support them with their promotion and marketing.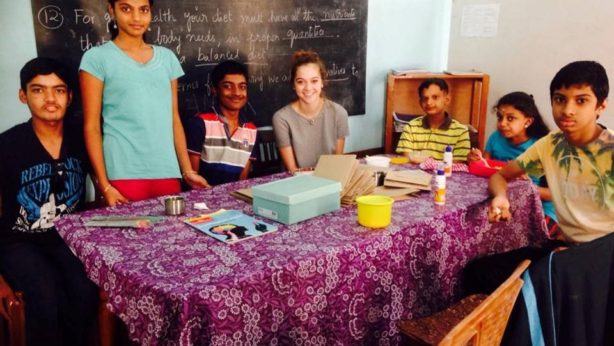 Aniek (Hotel Management), Thom (Hotel Management) and Joyce (Dance Therapy) worked with One Good Step at Vimarsha, with students with a range of physical and learning challenges. Aniek and Thom (who took over from Aniek) helped them to develop a baked product (cookies) that they could sell, and helped them gain a range of related skills, while Joyce helped them with dance/movement therapy.