Project Exhale
ABOUT THE PROJECT

Indoor air pollution (IAP), recognised by the World Health Organisation as the largest environmental risk to health, accounted for 4.3 million deaths in 2012. Exposure to IAP has been linked to a wide range of diseases in adults and children such as acute pneumonia, chronic obstructive pulmonary disease, lung cancer, cardiovascular diseases and others.

The main source of IAP is smoke released from cooking on open fires and traditional stoves that use coal, wood and biomass fuels. In India alone, these practices are employed by approximately 700-800 million people. In 2014, a team of researchers from the Netherlands spearheaded Project Exhale, a collaborative, interdisciplinary initiative to combat IAP in slums in Bangalore.
OUR AIM

Working alongside people living in slums as well as with industrial designers, engineers, anthropologists, global health specialists, and health economics and health technology experts, Project Exhale aims to develop and provide access to improved cookstoves (ICS) in Indian urban slums, which, historically, have been under-addressed in the field of IAP, as most interventions and research focused on rural areas.

By employing a participatory, context-oriented approach grounded in the realities of these urban, marginalized communities, we aim to address issues of user needs, acceptability and sustainability of the project.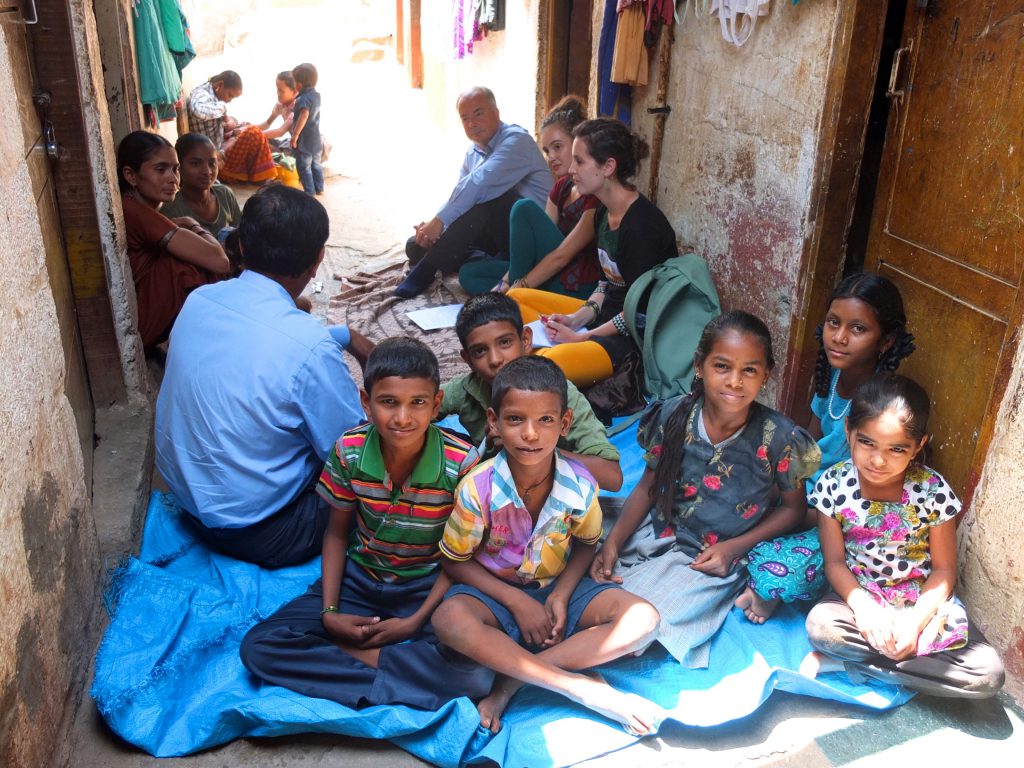 PROGRESS

An ethnographic study of the socio-cultural context that constitutes cooking on traditional stoves in urban slums of Bangalore in 2014 revealed a dynamic and highly interconnected network of factors such as poverty, tradition, perceptions surrounding smoke and scarcity of resources that varied widely between and within the slums. It showed that an intervention to reduce indoor air pollution (IAP) in these settings would need a holistic approach that addresses cooking on traditional woodstoves and the underlying context as a whole, and places the people of the slum at the centre of its activities.

Based on these findings, team Exhale engaged with two slums in a series of prioritisation and co-creation workshops, wherein the community gave us insights into their cooking needs and preferences and discussed what constructing their 'ideal' stove would entail. These sessions served the dual purpose of involving slum-dwellers in a hands-on translation of ideas into tangible products as well as providing the designers with inputs essential for the creation of user personas, to direct the development of a real-life working prototype that incorporates as much of the slum-dwellers' ideologies as possible. Through repeated PDSA (Plan, Do, Survey, and Act) cycles, designs for context-appropriate low-smoke cooking stoves were developed, and are being built upon and improved through feedback by use in slums as well as tests for emissions, efficiency and response of the material to thermal stresses in controlled environments.
UPDATES

For updates, see our news page!
RESOURCES

Project Exhale part 2: Click here

Project Exhale teaser: Click here

Project Exhale Documentary: Click here

TED talk by Onno van Schayck: Click here
Research

Ghergu, C., Sushama, P., Vermeulen, J., Krumeich, A., Blankvoort, N., Schayck, O. C. v. & Witte, L. P. d. (2016) Dealing with Indoor Air Pollution: An Ethnographic Tale from Urban Slums in Bangalore. International Journal of Health Sciences and Research (IJHSR), 6 (1), 348-361 
http://www.scopemed.org/?mno=220897

Checkley W, Pollard SL, Siddharthan T, Babu GR, Thakur M, Miele CH, Van Schayck OC. Managing threats to respiratory health in urban slums. The Lancet Respiratory Medicine. 2016 Nov 1;4(11):852-4.
http://www.thelancet.com/journals/lanres/article

Thakur M, Boudewijns EA, Babu GR, Winkens B, de Witte LP, Gruiskens J, Sushama P, Ghergu CT and van Schayck OCP (2017) Low-smoke chulha in Indian slums: study protocol for a randomised controlled trial. BMC Public Health, 17(1):454. doi: 10.1186/s12889-017-4369-6.
https://www.ncbi.nlm.nih.gov/pubmed/28511647

van Schayck, O. C. P. and Boudewijns, E. A. (2017) COPD and asthma: the emergency is clear, now is the time for action. Lancet Respr Med,
https://doi.org/10.1016/S2213-2600(17)30308-9

Boudewijns E A et al. The Lancet Planetary Health (June 2022);  
doi.org/10.1016/S2542-5196(22)00094-8
IMAGE GALLERY